While not meant to be comprehensive list of all the badass women riders (that would be a really long list), these are just a few females who up the stoke level on two wheels.
Mountain Biking's Five Fastest Females (via Red Bull)
Rachel Atherton
Rachel Atherton awarded prestigious Laureus award. | Photo: Red Bull Content Pool
The two-time Laureus Award-winning princess of downhill had to be top of our list, especially after her undefeated assault on the 2016 UCI World Cup season. She won/retained the UCI World Championship title to boot and never once looked like slowing down.
Rachel Atherton is the alpha female of downhill racing, her ability to manage her speed and surroundings across a race weekend nothing short of remarkable. She's well on her way to becoming one of the true greats.
Catharine Pendrel
Pendrel held onto third place throughout the race. | Photo: Matthew DeLorme
What a 2016 season Catharine Pendrel had. The Canadian managed to stay cool under the white-hot heat of Annika Langvad's assault on the early part of the UCI World Cup season to finish strongly and claim her third overall title.
At the Rio Olympics she crashed early on the first lap, but she showed the kind of grit that's typified her career and fought back to finish third.
Cecile Ravanel
For many people, Cecile Ravanel is the obvious heir to the throne of Anne-Caroline Chausson; she's fast, French and devastatingly consistent.
In 2016 she clinched the Enduro World Series title, winning seven out of the eight rounds along the way. Her background in XCO and XCE racing provides the fitness, while a scintillating skill set provides the raw speed.
Tahnée Seagrave
Out with the old and in with the new for Tahnée. | Photo: Dave Mackison
Although only 22 years old, Tahnée Seagrave, the 2010 UCI junior World Champ, is one of the youngest women in the sport's top 10, yet she's one of its brightest stars.
She was one of only a couple of women to out-qualify Atherton in 2016 and remains one of the bookies' tips to stand as one of her biggest challengers over the next few years.
Seagrave is remarkably gifted when things get technical, after years of residing in the French mountain bike resort of Morzine.
Rebecca Rush
Sitting down for some recovery time. | Photo: Pat R. Notaro III
Puerto Rican-born Rebecca Rusch remains one of the toughest competitors that professional mountain biking's ever produced.
What really sets her apart from so many other legends, however, is her chameleon-like ability to morph and adapt her racing to so many disciplines.
The Chicago native cemented her title as 'Queen of Pain' by taking second place at 2016's Dirty Kanzo 200 and winning the 2014 Trans Andes Challenge.
-by Ric McLaughlin / via Red Bull
A Few of MTBparks' Favorite Female Riders
Samantha Kingshill
At the age of 15, Sam Kingshill petitioned the UCI to upgrade her race category from Junior Cat 1 to Pro. Now at 16, Sam is dropping into courses and standing on podiums with some of the fastest women in the world.
Jackie Harmony
Jackie Harmony is one fast mother—literally. The former Pro US National Champion (2012), three-time Pan American Champion, Pro GRT Champion, and Taxco, World Cup and Megavalanche competitor is seen cheering from the sidelines more often these days, baby in arms, but occasionally still hands Jr. off to dad and crushes it between the tape. In between adventures in parenthood, Jackie and hubby Dante are also BetterRide coaches.
Britney White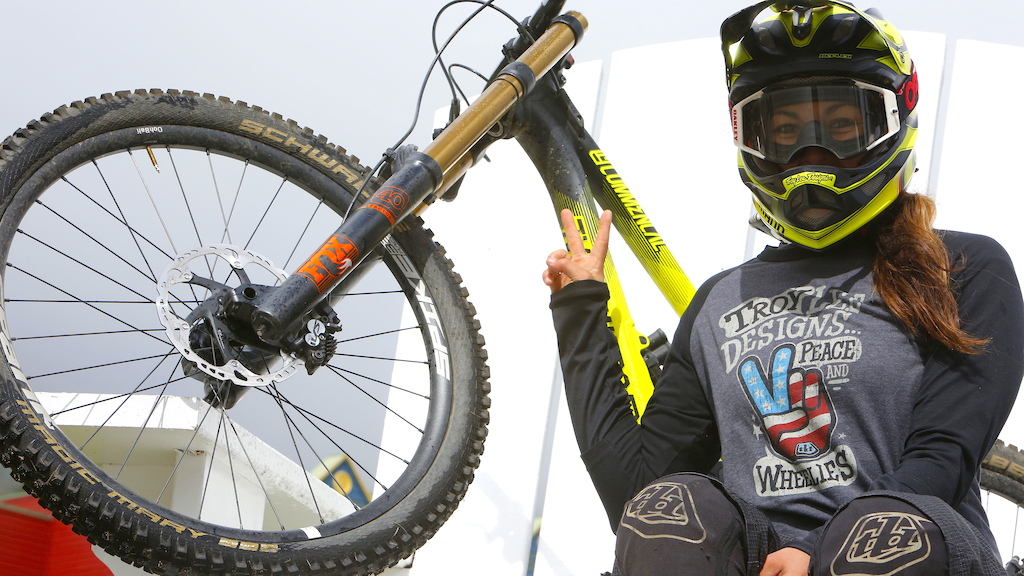 Photo: Jay Provins 
For anyone who's ridden the Pacific Northwest, Britney is a bit like a local legend—you may catch glimpses of her gliding through the lush forested landscape, or you've heard urban legends about some feature she sent. But as her podiums in the NW Cup, Crankworx and other events testify, she does exist. The freerider is focused on more than racing, though, and her edits are the kind that make you long for loam. 
Casey Brown
Photo: Anthill Films
Any woman willing to completely detach her brakes–levers, rotors, calipers, everything—and drop into a nearly 60 mph Kamloops run has a place on our list. The New Zealand born shredder honed her skills in British Columbia, and aims at being one of the best in her sport. With respectable finishes from the World Cup to Crankworx and the Enduro World Series, she's well on her way. 
Tara Llanes
Photo: Sven Martin
Inspirational is an understatement. Tara's life on two wheels—from BMX racing to pro mountain biker—changed dramatically when she broke her neck and back in an over the bars crash during a dual slalom race in 2007 at Beaver Creek, CO. Though devastated, Tara rose from the ashes to continue to ride, inspire a community, train for an Iron Man and raise millions for spinal cord injury research through the six-year running Tara Llanes Classic. 
-by Don Stefanovich